Lola Stockings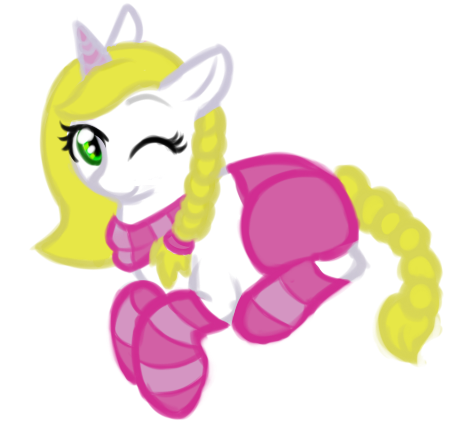 Gender:
Filly.
Race:
Unicorn.
Home:
Ponyville.
Mane:
A Golden mane with a braid tied with a purple hair tie and a side fringe. See picture above.
Tail:
A matching golden braid tied with a magenta hair tie. See picture above.
Eyes:
Light green. See picture above.
Body:
Small and white. See picture above.
Cutie Mark:
Blank flank.
Age:
A school-aged filly.
Around twelve human years.
Personality:
Smart, friendly, fun, lively and bubbly.
Likes:
Clothes, fashion, art, her friends, other ponies, reading, making clothes and using her magic.
Dislikes:
Spicy things, bullies, rain and sour things.
Special Talent:
She's a blank flank.
Family:
Canvas is her aunt.
History:
Lola came from a family in Canterlot and was brought up with her parents until the age of six. She then moved to Ponyville and started living with her aunt, Canvas, as her parents couldn't care for her anymore. She was very interested in fashion from a young age, and she started making her own clothes. She is a very talented clothes maker for her age, yet she hasn't got her cutie mark yet.
Harmony