Winter Frost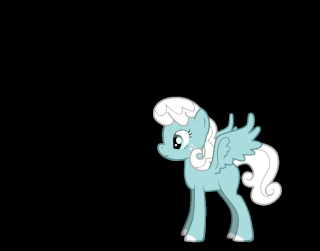 Gender: Mare
Race: Pegasis
Mane: White
Tail: White
Eyes: Ice Blue
Body: Baby Blue
Cutie Mark: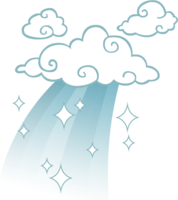 Age: 15
Personality:
A bubbly pony who loves to spread the wonder of snow upon the citizens of  Cloudsdale. She suffers from bipolar disease. Sometimes she is fun and playful like snow but at other times she is cold hearted like the frost of winter. She loves to play with her friends but when she turns to her "dark side" her friends become afraid of her so now she confides in her home wanting to play but resisting.
Likes: Winter, Snow, Blue, clouds, Ice cream.
Dislikes: Sun, summer, spring, Canterlot, CloudsDale
Special Talent:
Making snow at her job
History:
Winter Frost is a beautiful mare that was born in Cloudsdale. Her mother was a weather pony and her father was also. at a young age her mother broke her wing in a flying accident and fell out of the sky, never to be found. This is when Winter started to become depressed and bipolar she never was the same. As a filly she was always afraid to fly due to her mothers fait. But as soon as she flew into the skies of cloudsdale she knew it was her destiny. She practiced flying until one day she wanted to try out being a weather pony. She circled a cloud with quick speed and as the first snow flake fell her cutie mark appeared. She became friends with the other weather ponies but one day, when she was having a "bad day" she became hateful and bitter and took it out on her friends. everypony began to ignore her and that playful personality started to vanish. Now she stays in the confides of her home wishing for a fresh start. She despises CloudsDale because of the torture she goes through resisting the urge to talk to the other ponies. She wishes to move to ponyville and plans on doing it one day.
Example Rp:
Winter frost sat in her room watching the city of Cloudsdale from her window. "stop wishing to go out there, it will never happen!" she thought with a tear rolling down her cheek. while she sat lost in her memories a knock came from the door. she sniffled and got up. "i'm busy!" she called to the unknown pony. "come on, open the door!" Winter stood there dazzled at the thought of a pony who wanted something to do with her. "she probably has the wrong pony.." she thought. "oh well." she walked to the door and opened it. "who are you" winter asked confused at this pony she had never seen "im dark wish." she replied. "but.. I've never heard of you... are you new here?" Winter asked "no I just heard rumor of a pony who was mean and unthoughtful... and came here to see " she answered. Winter was hurt by the rumor. she slammed the door in the mare's face and sat back down in the same spot where she always sat.
Harmony.