Apple Orcherd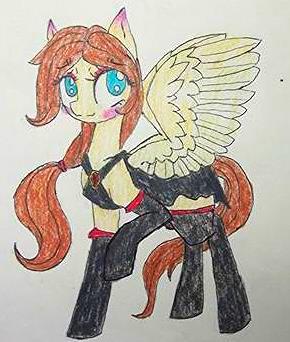 " />
Gender:Female
Race:Pegasus
Mane:Long and Wavy while light brown
Tail:long and wavy while light brown
Eyes: light bluish and greenish
Body: Cream colored, while tall and scrawny
Cutie Mark: BLANK FLANK
Age:21
Personality: She is normally in a happy mood, it would be very hard to make her angry. Her past normally makes her anger or sadness show. She is very loyal to the ones she love. She loves foals and always thinks about having some in the future.
Likes: Foals, cotton candy, fairs, love, apple cider, and music
Dislikes: Rudeness, ponies messing with the ones she loves, talking about her past.
History: As a filly Apple's parents taught her how to take care of herself then left her on her own so they could work. They never visited often. They also keep their room locked because they don't trust Apple. She took care of herself, and others. Unlike her parents. She helps out at a kindergarten, orphanage, and the hospital. She was sixteen when she started all of that. Apple hasn't earned her Cutie Mark yet because she never understood what her special talent was.
Example RP Segment: Apple was working at the kindergarten and dismissed them to recess, but one colt stayed behind. He had his hooves covering his eyes. She trotted to the colt and sat down by him.
"Hey, you alright?"
He sniffled and looked at her red eyes and a stuffy nose.
"No, my sister left without any explanation. So did my dad. Mom's been sad about it."
She softly smiled.
"Hey, maybe they were just planning a surprise for you and your mom."
He smiled back at Apple
"You think so? Wow!"
She let out a soft chuckle.
"Alright, now head off to recess, you wouldn't want to miss having fun with your friends."
"Thank you Ms.Orcherd!"
With that the foal raced out of the room to meet up with his friends. She shed a tear knowing what had really happen with his father and sister.
"Harmony"