Canvas

/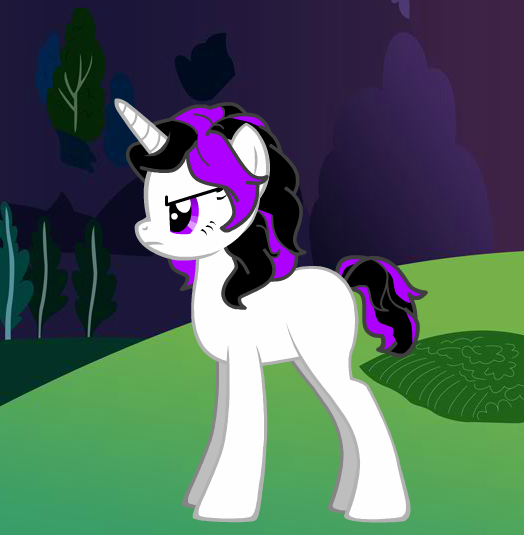 Gender:
Mare
Race:
Unicorn
Home:
Ponyville
Mane:
Her mane is short and black with bright purple streaks, extremely curly and knotted.
Tail:
Short, black with purple streaks. Extremely curly and knotted.
Eyes:
Bright purple
Body:
White
Cutie Mark:
Age:
19
Personality:
She's a loner. Mainly because she is cruel, harsh, and critical of others. This usually happens as she has trouble expressing her nice emotions for fear of being perceived as vulnerable. Although, those who do get close to her, she would do anything for. She's generally grumpy, fierce, sly, and cunning.
Likes:
Art, music, eating tasty foods, her nice Lola Stockings, and solitude
Dislikes:
Large mobs of ponies, compliments/insults from those who don't personally know her, publicity, bad manners, and failure
Special Talent:
Painting by holding liquids with her magic
Family:
Lola Stokings
History:
As a young filly growing up in Canterlot, she was always excluded and distant from others. Her family was unresponsive to her needs and left her struggling by herself. As she grew, she discovered art. She put all of her hours into this, and as a result, she became lazy with schoolwork and failed to do it, but still kept up with the level of intellect among her classmates. She taught herself art, often visiting the library help and tips. It was around this time she got her cutie mark. It happened when she was getting some paints down from a high shelf in her room, and clumsily knocked over the paints. She managed to catch the liquids from the cans via her magic before they spilled everywhere. She then used the ability to hold liquids to create quirky patterns on her canvas. And although she hoped gaining her cutie mark would get her parents' attention, they brushed it off and she became far more distant and grumpy.
She moved away from her family younger than most to Ponyville, and began painting for a living. She began selling them on the streets, slowly progressing to selling them at galleries. She became anonymous when selling artworks. Once she had made a neat profit, her niece, Lola Stockings, came to live with her as her parents couldn't care for her anymore. Lola and Canvas got very close very quickly.
"Harmony"